EASTER EGGS IDEAS – These adorable DIY Easter Egg Ideas do not required any dye. These are simple ways to give Easter Eggs a beutiful look withouth the mess!
WHY WE DECORATE EASTER EGGS?
Easter is known in most countries as a religious holiday when Christians celebrate the resurrection of Christ. Some nations around the world decorate Easter eggs as a symbol of new life, representing, in this case, Jesus' resurrection. This Easter tradition goes way back, pointing as early as the 13th century.
Even though we eat chocolate and candy Easter eggs, back in the old days, eating eggs, in general, was not allowed during the previous week to Easter. Any eggs collected before the Holy Week were saved, and people decorated them and gave them to children and neighbors as gifts.
WHY DO WE HAVE THE EASTER BUNNY?
Some believe that the Easter Bunny originated in Germany. The bunny would give Easter Eggs or gifts to children according to how well they behaved during the Easter season. The legend teaches that the Easter Bunny carried colored eggs in his basket, most made of candy, also sometimes, he brought other gifts such as toys. On our days that Easter Bunny often brings baskets full of goodies and presents for children.
We love Easter Decorations! I know most of us know how to dye eggs but what about if this year we think out of the box and try something different. The Easter Egg Tutorials that I'm sharing today are dye free. These No Dye Easter Egg Ideas are super adorable and unique. I can't pick a favorite… I love them all!  Which one do you like the most? Let me know!
Ready to see them all?
Here they are!
Natural Brown Easter Eggs at Kaley Ann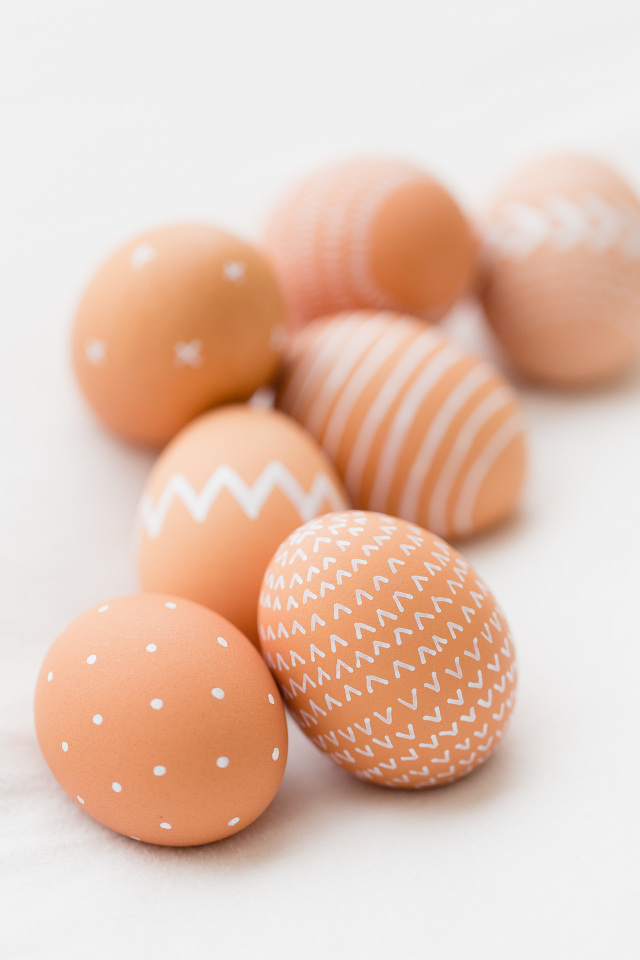 Fabric Covered Easter Eggs at Craftberry Bush
DIY Egg Vases at Craftberry Bush
Gold Eggs Centerpiece at 79 Ideas
Gold Leaf Easter Eggs at Sugar and Charm
Cement Easter Eggs at Camille Styles
Moss Covered Easter Eggs at Cherished Bliss
DIY Glittered Easter Eggs at Girl Inspired
Mini Easter Egg Piñatas at Oh Happy Day
Cross Stitched Eggs at Sublime Stitching.
So many cute ideas!
Here are some other Spring and Easter Ideas that I love!
Click HERE
25 Easter Recipes and Decorations
Click HERE
Click HERE
Thank you so much for stopping by!
Make sure to subscribe below… We don't want you to miss a thing!